Today is My One-Year Homeversary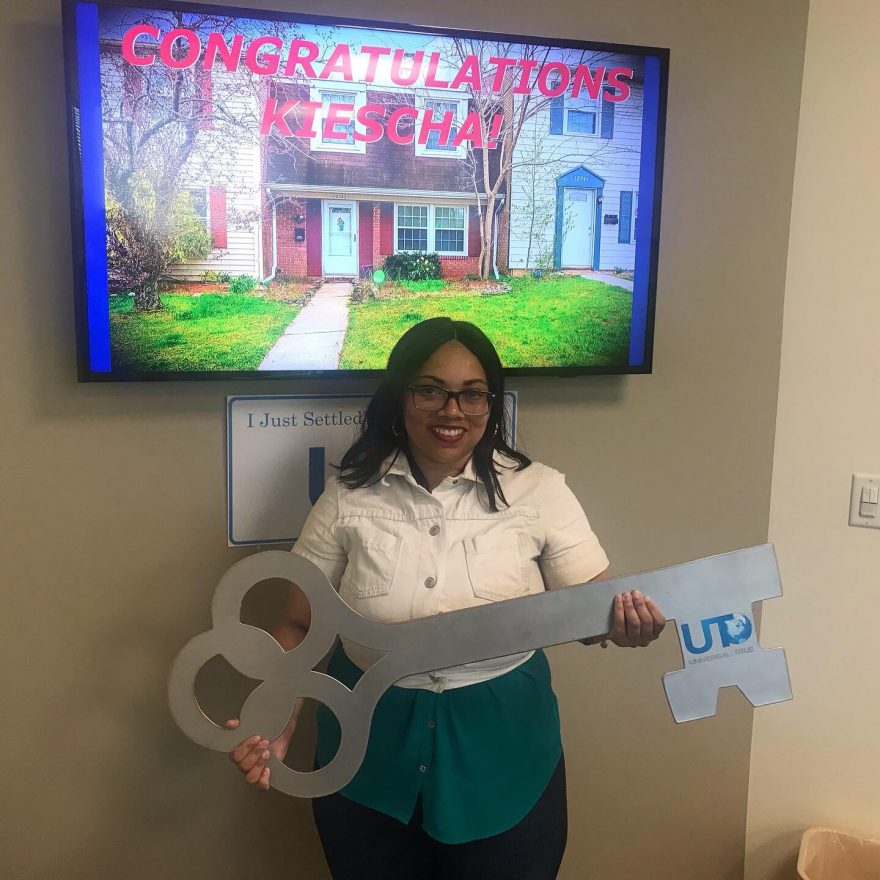 Wow I can't believe that on June 14, 2019 I became a first time homeowner! Owning a home was one of my dreams and honestly, I wasn't sure if I could do it. Candidly, I didn't have a 20% down payment, but I had faith. My faith is what kept me going, even when my bank account told me to stop. How many of y'all know that with GOD, all things are possible!
Year after year, I would add a picture of a townhouse on my vision board, and I knew one day I would move to the DMV area and buy a house. This vision that I had, motivated me and I am here to tell you that if God can do it for me, He can do it for you.
I was able to secure a down payment and closing cost grant (getting that grant took months of hard work, but I got it) and I went to the closing table with $309! I don't want to mislead you into thinking that's all I paid because it's not true. Additionally, I paid for inspections, appraisal, and I'm sure some other fees that I can't remember right now. With that being said, I did not come out of my pocket with 20% or any amount close to it. Thank you JESUS!
So now that I've been a homeowner for year (and still learning), I want to share some tips with you if you're considering buying a home. Disclaimer: I am not a real estate agent nor do I work for a lender. Always consult with a professional before doing anything, especially making a huge purchase such as a house.
Start doing research on the communities in the city in which you want to live. The more you know helps your real estate agent in narrowing down houses to send you to view.
Make a list of your "nice to have's" and must have's." Again, this helps your real estate agent narrow down houses to send you.
When searching for a real estate agent, ask for recommendations. Determine if you're okay with having a part-time real estate agent (someone who has another job and does real estate on the side) or a full-time real estate agent. Find out if they're a member of a real estate association (you can look up their name in the database).
First time homebuyers, please use a homebuying counseling agency. I used HomeFree-USA and my counselor helped me with my budget, told me about various first-time homebuyer programs, connected me to lenders and more.
There are tons of first-time homebuyer programs and they will require you to take a first-time homebuying class (I took my class at HomeFree-USA). Please research and compare these programs. A lot of them have guidelines and you want to make sure you fully understand what you're getting into. Ask your counselor questions.
Determine how much you can comfortably pay each month (your mortgage payment), and I do not go above that number. You will be able to figure that out once you create your budget.
Once you determined how much you can comfortably pay monthly and the neighborhoods you want to target, submit your application to lenders. They will pull a hard credit check; however, you will have a 30-day window to have a couple of lenders pull your credit. Make sure you do this within 30 days so your credit doesn't take a hit twice.
Get a pre-approval letter (not a pre-qualification letter) before you look at houses. On a basic level, the pre-approval letter is a more accurate estimate of how much loan you qualify for. Plus, this helps you put your best foot forward when presenting an offer to the seller.
Just because you qualify for $500,000 (as an example), doesn't mean you should find a house for that price. Remember to look at your budget and use wisdom.
Once your offer is accepted, make sure you get a home inspection (please attend your inspection and ask questions), roof inspection, and termite inspection.
These tips are just a start. Please ask as many questions as possible so you understand what you're getting into. I cannot stress this enough. If you have any tips that you would like to share, please leave them in the comments.