Are You Faced with an Obstacle?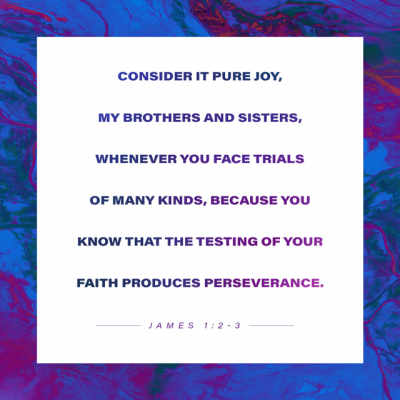 Happy Hump Day! I'm checking in to say hello and to share with you a scripture I read this morning. James 1:2-3 (NIV) reads, "Consider it pure joy, my brothers and sisters, whenever you face trials if many kinds, because you know that the testing of your faith produces perseverance." The MSG version reads, "Consider it a sheer gift, friends, when tests and challenges come at you from all sides. You know that under pressure, your faith-life is forced into the open and show its true colors. So don't try to get out of anything prematurely. Let it do its work so you become mature and well-developed, not deficient in any way."
The Bible does not state that we will not face trials; the text reminds us that we will face trials. So you know that a trial (whether a job loss, end of a friendship etc.) will knock on your door. But the good news is that when you overcome that obstacle your character will be developed for the better, and you will persevere. What does it mean to persevere? It means to continue even in the face of difficulty. The God that we serve gives us the capacity to get through ANY challenge we may face. I remember when I was unexpectedly laid off earlier this year and I was in some much distress worrying about how I was going to make ends meet. I had a new mortgage, bills, and I was almost finished paying off my car. I was faced with a HUGE trial. However, God allowed me to use that time to finish my book "Healing from a Heartbreak: A Journey to Focusing on You After a Breakup," start my business, mentor women entrepreneurs, and He supplied all my needs (no more car note yay)! My faith was tested on every side but I overcame that obstacle. Is everything perfect? No, but I know God gave me everything I need inside to win.
What trials/obstacles are you facing right now? Whatever it is, change your perspective and look at how you're going to overcome it because you will. Now is the time to lean on your faith in God knowing that you will persevere.
After releasing my book, a few people asked me how I published it. I believe in sharing what I learned with others, so I am working on a book publishing webinar. If you're an aspiring author, please take a few minutes (less than five minutes) to answer a few questions. Oh it would be great to get your responses by Friday, July 24. I will share more details on the webinar soon.